SOFTNESS AND COMFORT OF MATERIALS
In order to provide maximum comfort and softness, AV08 uses only natural fibers, known for their soft touch and daily comfort. These natural fibers have been carefully selected with respect for the environment.
Linen is a resistant fiber, known to be "naturally" ecological because its culture does not require fertilizers, and is entirely biodegradable. It is thermoregulatory, it gives a feeling of freshness in summer and heat in winter. It is therefore a very pleasant fiber in any season, even if it is usually worn more often in spring and summer.
If you are looking for a linen scarf, look at HAMELIN BAY, KARIJINI PARK, NAVACELLES, DIAMOND BEACH styles.
Cotton is an absorbent fiber, soft and pleasant to wear. AV08 has chosen to use organically grown and GOTS certified cotton, in line with its eco-responsible approach.
In the men's cotton scarf collection, the majority of scarves are made of organic cotton. There are the models SIKKIM, MARIETA, HITACHI SEASIDE, HOEDIC, LIPEZ, IRAZU, HARAPAN,  TORTUGA BAY, NAMIB, GOBI, MAUPITI, WADI RUM and LAURIS.
And wool is a natural animal fiber, naturally ecological. It comes most often from the fleece of sheep, but it can also be made of goat, rabbit or alpaca hair for example. Its fine fiber does not sting. It is perfect to face the winter since it has thermoregulatory properties. It protects very well from the cold thanks to its fiber, which makes it difficult for air to pass through and absorbs moisture up to 30% of its weight.
Here are the wool scarves from the AV08 collection, made from merino wool : DUNQUIN, VYRNWY, BARRA, SKYE, POLPERRO and  ORKNEY.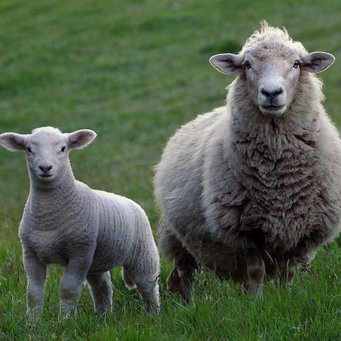 Sheep's wool
THE WEAVING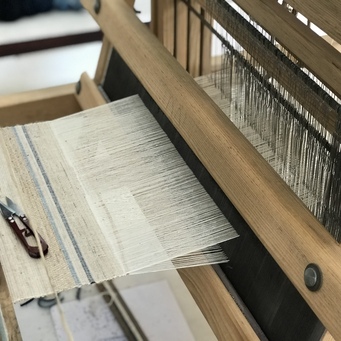 After the selection of fibers, the 2 steps are weaving and dyeing.
For weaving, there are different weave classes (type of binding between warp & weft threads). AV08 has chosen to use the following weaves: plain, twill and herringbone.
Plain weave is the simplest and oldest weave. It is also the strongest thanks to a maximum of interweaving of the warp and weft threads. The resulting fabrics have neither front nor back. AV08 uses it for the lighter organic cotton scarfs, so that they are resistant and supple.
Twill gives the appearance of fine slanted edges and enhances the colors of the print. AV08 uses it for thicker organic cotton scarfs.
Herringbone is a special type of twill weave that has a zig-zag pattern. AV08 uses this weave for woolen shawls because it gives the fine fibers of the wool great strength. This makes the scarfs thin, soft and not very fragile.
THE DYEING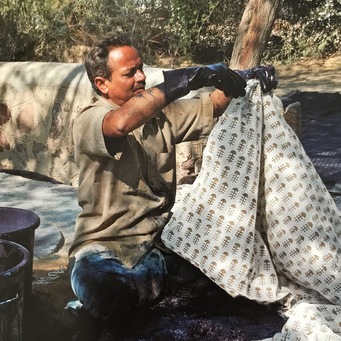 For the dyeing, there are two processes commonly used for the scarfs: either the threads are dyed before being woven  (LIPEZ, IRAZU, SKYE, POLPERRO, ORKNEY, BARRA and VYRNWY ), that guarantees a great flexibility of the fabric and a very good behaviour of the colors in time. Or the threads are woven and then printed. This allows more flexibility in the patterns, designs and prints.
AV08 also uses two specific processes: tie & dye  (TRESTRIGNEL),  where the scarf is knotted, then dyed. This is done by hand, each piece is unique. And the enzyme wash (TORTUGA BAY), which gives a faded side to the scarf. After dyeing, the fabric is washed with enzymes, which during the rubbing, create a slight difference in coloring. This process respects the environment.
INDIAN KNOW-HOW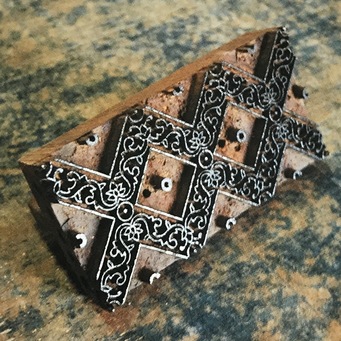 The handmade production is made in India, a country where fabric is an integral part of the culture. India has an extraordinary traditional know-how, using ancestral techniques, which have been handed down from generation to generation.
There are many types of handmade prints, still used today, such as batik, tie & dye, ikat, madras, khadi... Textile production supports hundreds of thousands of people in India.
DETAILS OF THE SCARF
IDEAL DIMENSIONS
All the models have the same dimensions (200 cm X 80 cm), perfect length to wrap it around the neck and to be able to tie it as you like, without it being too short...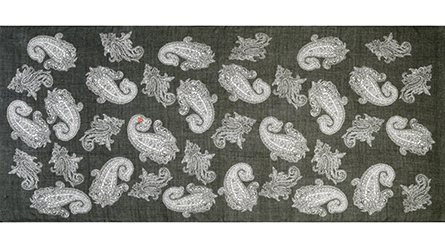 LOGO EMBROIDERY
The initiated will spot the small embroidery, representing the logo of the brand AV08. Visible or not, depending on how you tie your scarf. Its color differs according to the model. It is a small detail that brings personality and refinement to the scarf.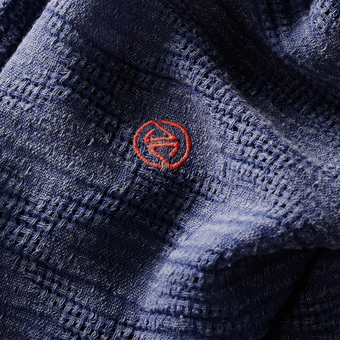 LABEL
Each scarf has a brand label, on which the composition label is sewn. You will find on this label the care instructions.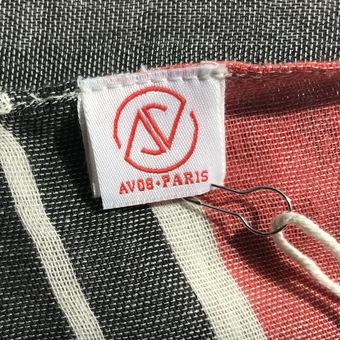 CARE INSTRUCTIONS
Hand washing in cold water and natural air drying are recommended to keep the softness & brightness of the colors of the scarf for a long time.
If you have any questions, please do not hesitate to send us a message to Contact Us. We will be happy to answer you very quickly.