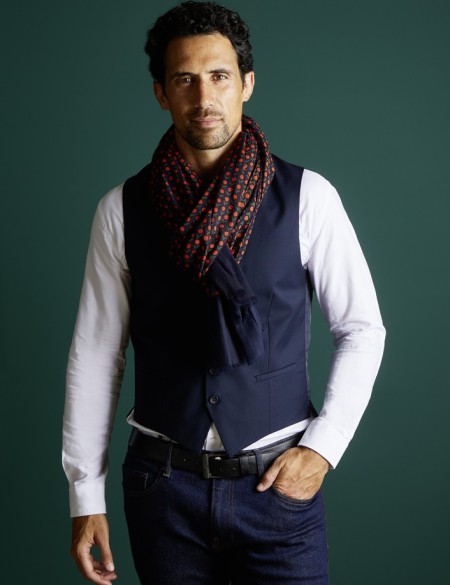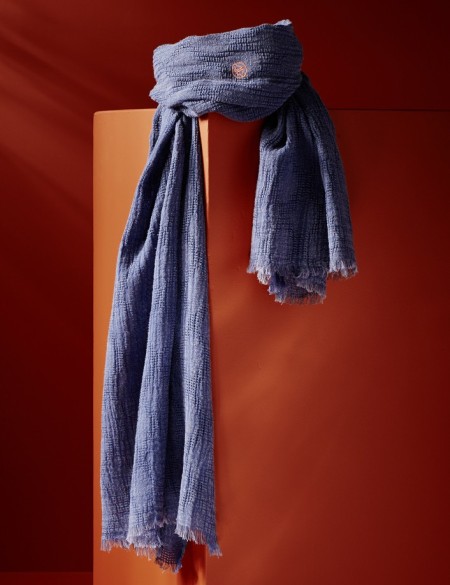 Casual scarf, washed denim look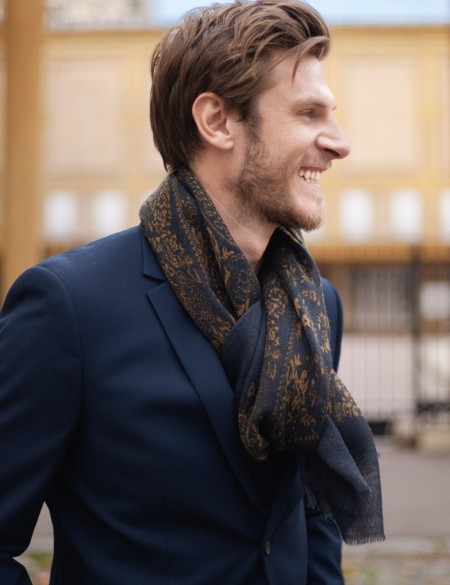 Wearing a scarf for men is much more than just wrapping a scarf around the neck. It's about adding a piece to the male wardrobe that awakens a sense of style by providing that unique and timeless touch that makes all the difference. Explore our collection of high-end wool scarves, including our grey Polperro wool scarf.
Choosing a chic and trendy scarf is how you can transform a classic, even mundane outfit, into an elegant and refined ensemble. To assist you in this quest for excellence, the AV08 Paris brand is committed to offering you collections of scarves that meet your expectations.
The exclusivity and refinement of AV08 Paris men's scarves are based on two fundamental elements: the originality of the design and the quality of the materials used. Whether it's a cashmere scarf, a merino wool scarf, or a silk scarf, these factors are crucial to differentiate a luxury fashion accessory from an industrially produced, lower-quality item.
AV08 Paris places great importance on selecting raw materials, collaborating with producers committed to environmental preservation and ethical working conditions. The exclusive use of exceptional plant and animal materials is a key feature of our approach. This commitment is essential to create collections of men's scarves that are both resilient and elegant, adding significant value to the refinement of the
Whether it's an organic cotton scarf, a wool scarf, or a linen scarf, we approach each natural fiber with humility and deep respect, ensuring each step of the artisanal manufacturing process is carefully considered. From weaving to dyeing and pattern printing, each stage is meticulously planned to result in a highly exclusive finished product.
Thus, the originality of the designs and the use of exceptional raw materials define the exclusivity and refinement of AV08 Paris men's scarves, making each piece a unique and high-quality fashion accessory.
Beyond protecting you from the cold in winter or keeping you cool in the summer, a luxury scarf for men should also warm up or enhance your entire outfit..
Stole, shawl, snood, scarf, pashmina, trama, keffieh, sarong, or tartan... Regardless of how they are named, these are exceptional scarves that come from the workshops of our manufacturers, respecting the specifications established by the creators of our brand, AV08 Paris.
When you opt for a men's scarf from AV08 Paris, you're adding a luxury accessory measuring 200 cm by 80 to your wardrobe, ready to accompany you daily or enhance your outfits for special occasions.
A one-size-fits-all guarantee ensures you can tie it in different ways according to your preferences and easily for your comfort. Add to that the colors, prints, and original patterns that adorn our scarves, and you have the opportunity to dress with a lot of taste and elegance.
High-quality and eco-responsible fabrics, creatively designed patterns, a generously sized fabric, and prices that fairly compensate the entire design process — this is what sets our luxury scarves for men apart. Our collections allow every man to find the accessory that ensures both great refinement in wear and perfect harmony with other wardrobe pieces. Chic and masculine elegance at the best value!
If you are attuned to the meaning of the clothing and accessories you wear, and if the pursuit of values primarily motivates your fashion choices, then the men's scarves from AV08 Paris are the preferred companions.
Beyond the high quality we demand for our creations, it's the richness of patterns and variations of designs that constitutes the excellence of our men's scarves. Each of them resonates with a particular dimension that reflects the essence and values of an exceptional destination on our planet. This is how we invite you to embrace the aura of your scarf, making it a companion to your personality, regardless of your style or preferences in clothing.