What's the cheche ?
The chèche, also known as a scarf, is a versatile and stylish fashion accessory that can enhance any outfit. However, there is a multitude of different styles, materials, and patterns, making the selection of the ideal chèche sometimes challenging. In this article, we will provide you with some tips for choosing the scarf.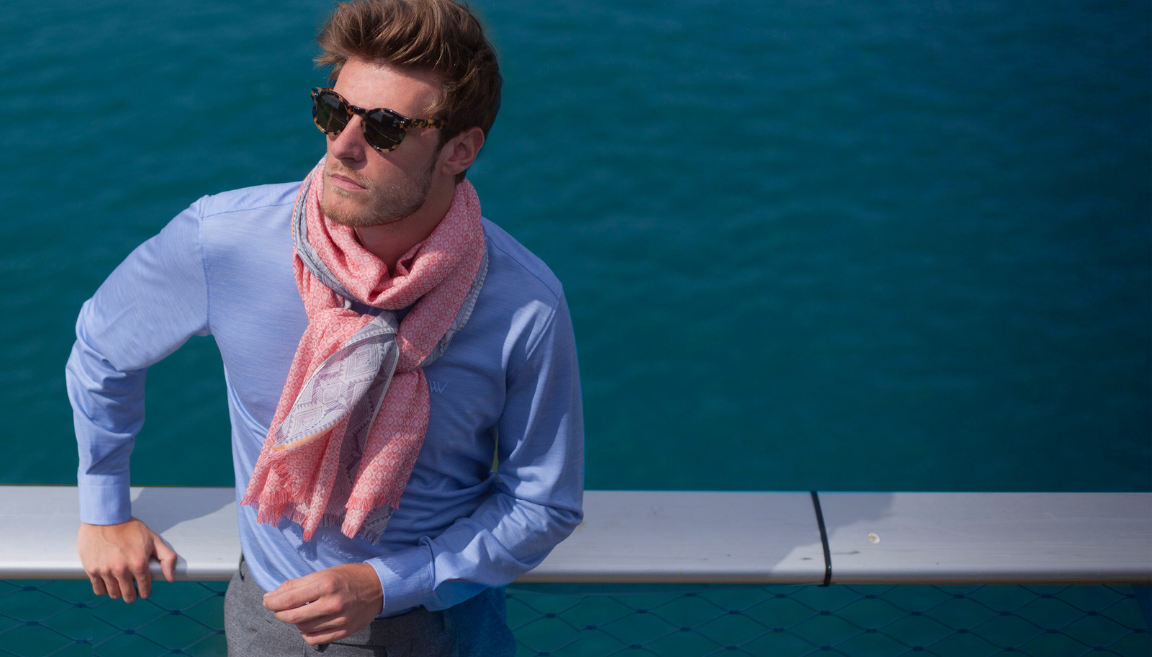 The Material
One of the first things to consider when choosing a scarf is the material it's made of. The material will not only determine the overall appearance of the scarf but also its texture and comfort.
Cotton: Cotton is a soft and lightweight material, ideal for scarves worn during the warmer months.
Wool:

Wool scarves

are warmer than cotton ones while remaining soft, making them perfect for colder weather. They can be made from merino wool, alpaca, or cashmere.
Linen:

Linen scarves

are more voluminous. As a thermoregulating fiber, linen is very pleasant to wear in summer as it provides a cooling sensation and can be worn throughout the year.
Silk: Silk is a luxurious and shiny material that adds an elegant touch to any scarf. Silk scarves are generally finer and more delicate than organic

cotton or wool scarves.

Synthetic: Synthetic scarves can be made from materials such as polyester, acrylic, or nylon. They are usually more affordable than natural fiber scarves but may be less comfortable and breathable.
AV08 does not use synthetic fibers.
The Size
There is a wide variety of scarf sizes available, ranging from small square scarves to long, enveloping shawls. To choose the ideal size for you, it's important to think about how you want to wear your scarf.
Small : A small square scarf can be tied around the neck, worn as a headband, or attached to a handbag to add a touch of color and style to your outfit.
Medium : A medium-sized scarf can be draped over your shoulders or tied around your neck in various ways, offering increased versatility.
Large : A large scarf or shawl can be used as a scarf, a blanket, or even a beach pareo. It provides a multitude of style and functionality options.
AV08 offers one size, 200 cm x 80 cm, a perfect length to wrap around the neck and tie as desired, without being too short.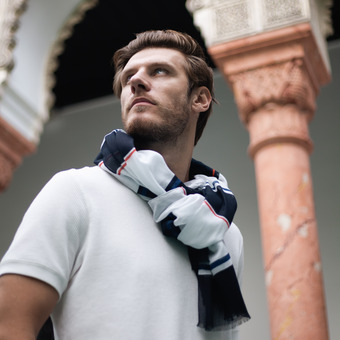 Patterns and Colors
The choice of patterns and colors for your scarf largely depends on your personal preferences and your current wardrobe.
Solid Colors
Scarves in solid colors are the most versatile as they can easily be matched with different outfits. Opt for neutral colors such as black, white, gray, or beige if you're looking for a scarf that will complement the majority of your wardrobe.
Patterns
Patterned scarves can add a touch of originality and character to your look. Popular options include floral, geometric, ethnic, or animal prints. Just make sure that the chosen pattern complements the other elements of your outfit.
Budget
With so many styles, materials, and brands available, you can find scarves in various price ranges. If you have a limited budget, consider looking for affordable cotton scarves. For those willing to invest in a higher-quality accessory, wool or silk scarves are durable and luxurious options. In conclusion, choosing the right scarf depends on several factors such as material, size, patterns and colors, as well as your budget. Take the time to consider these elements to select a scarf that will perfectly meet your needs and match your style.