How to coordinate your scarf with your outfit ?
Scarves are versatile accessories that can add a touch of style and personality to any outfit. However, it's important to know how to choose and coordinate your scarf properly to avoid fashion mistakes. In this article, we'll provide you with some tips and advice to successfully match your scarf with your outfit.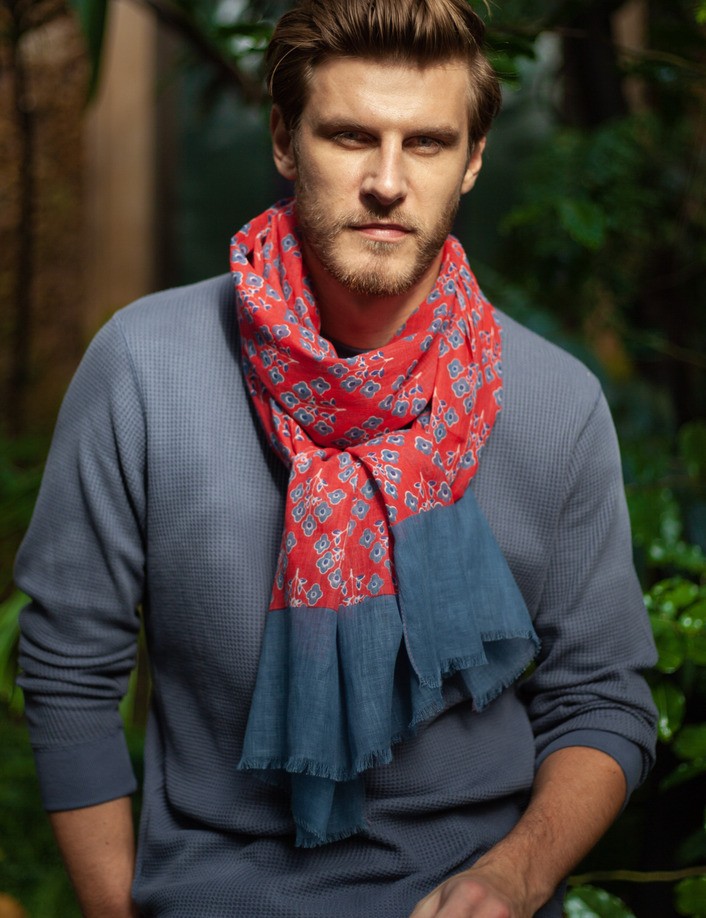 Choosing the right scarf
Materials
There are several types of materials for scarves, each with its own characteristics and advantages. Here are some examples:
Cotton Scarf for Men

: Lightweight, soft, and comfortable, ideal for the warm season.
Linen: Puffy and thermoregulating, better suited for summer wear.
Wool: Warm and cozy, perfect for winter or cool evenings.
Silk: Elegant and refined, suitable for special occasions or formal attire.
Colors and Patterns
When choosing the color or pattern for your scarf, consider your outfit and personal preferences. You can opt for:
Neutral colors like black, white, gray, or beige, easy to pair with other colors..
Vibrant and dynamic colors to enhance a simple or monochrome outfit.
Geometric, floral, or ethnic patterns to add a touch of originality and whimsy to your look.
Explore our collection of blue men's scarves.
Pairing your scarf with different outfits
Casual outfits
For a casual outfit, choose a cotton scarf in neutral or vibrant colors. Feel free to play with contrasts, for example, by pairing a colorful scarf with a plain t-shirt or raw denim. You can also opt for a subtle pattern that elevates your look without being too bold.
Work attire
In the workplace, favor noble materials like linen or wool to add elegance to your professional attire. Prefer subdued and refined colors, avoiding overly extravagant patterns. A black, gray, or beige scarf can be perfectly suited to complement a chic and modern outfit.
Formal wear and evenings
For special occasions, invest in a silk or cotton scarf to enhance your evening attire. Dark colors and discreet patterns are recommended, but you can also choose a bold color that contrasts with your clothes, as long as the overall look remains harmonious and elegant.
Tips for wearing your scarf with style
Tying your scarf
A men's scarf can be tied in various ways, depending on the length of the scarf and your personal style. Here are some ideas :
Wrap the scarf around your neck, leaving the ends free in the front.
Tie a simple or double knot around your neck for a chic and casual touch.
Fold your scarf in half, wrap it around your neck, and then pass the ends through the loop formed. It's quick and practical.
Coordinating your scarf with other accessories :
To successfully coordinate your scarf with your outfit, also consider matching your other accessories, such as bags, shoes, or jewelry. For example:
Pair your scarf with matching shoes for a sophisticated look.
Opt for a belt or bracelet in the same tones as your scarf to create visual harmony.
Choose a bag that echoes a color present in the pattern of your scarf to reinforce the coordinated effect.
By following these tips and tricks, you'll be sure to wear your scarf with style and enhance all your outfits, whether they are casual, professional, or formal. The key is to choose a scarf that suits your tastes and harmoniously integrate it into your look. So, don't hesitate to experiment to find the perfect combination!