A RESPONSIBLE BRAND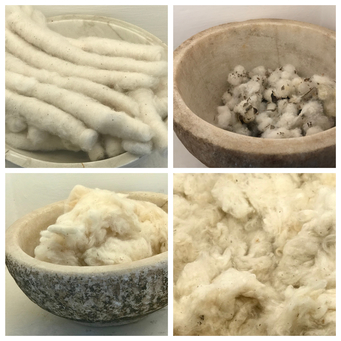 NATURAL & ORGANIC FIBERS
AV08 Paris is dedicated to creating beautiful, chic and luxurious scarves that are both high-quality and pleasant to wear. Our choice of materials is based on 3 natural fibers.
- Cotton, which brings softness and comfort, and is a must-have for all our desires. AV08 has selected GOTS-certified organically grown cotton, in keeping with its eco-responsible approach.
- Linen, which we love so much by hand, gives the scarf a puffy look. It satisfies our desire for freshness and lightness, especially in summer. What's more, flax is renowned for being naturally environmentally friendly, as its cultivation requires no fertilizers and it's entirely biodegradable. So it was an obvious choice for AV08 to select this fiber.
- Wool, a natural animal fiber, provides warmth and insulation from the cold. AV08 has chosen very fine wool fibers, which don't sting (thanks to the fineness of the fibers), to make the warmest chèches. Wool is naturally environmentally friendly and remains "affordable" in terms of price. An AV08 wool scarf is soft and flowing.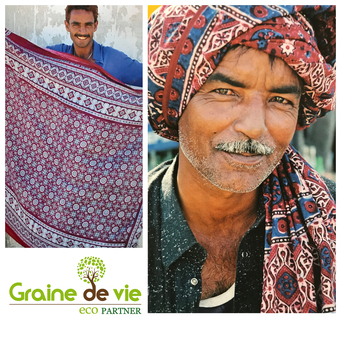 ARTISANAL PRODUCTION
Our scarves are handcrafted in India, a country with traditional know-how in weaving and printing. Working with Indian workshops enables us to offer high-quality shawls at affordable prices.
The workshops we have selected respect working conditions designed to protect the health and safety of the workers.
OFFSET CO2 EMISSIONS      
And to offset the CO2 emissions from India to France, we joined and contributed to the NGO Graine de vie, which runs nurseries and plantations in Madagascar, another textile country with a large Indian community. Graine de vie also works hard to raise awareness of environmental conservation among the local population, training and employing them.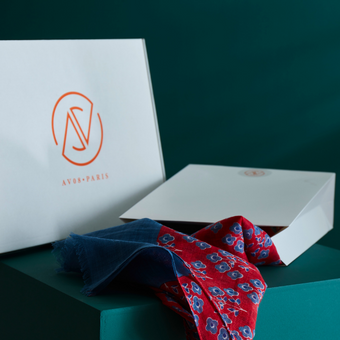 RECYCLABLE OR RECYCLED PACKAGING
For its packaging, AV08 has chosen to work with French suppliers. The cardboard shipping box and gift bag (available on request) are recyclable. The mailing pouch (which wraps the cardboard box) is made from 100% recycled plastic. And the tissue paper is entirely biodegradable.
FAIR CONSUMPTION
AV08 is part of the "fair consumption" trend, which involves consuming less and better. It's a win-win situation for everyone involved: the consumer, who pays the right price for a quality scarf designed to last over time; the supplier, who is paid correctly; and AV08, which has a reasonable margin. That's why AV08 offers a fair price all year round and doesn't hold sales.